Are you looking to change up your home decor? Decorating with fine art canvas prints is a sure way to spruce up your walls! Consider the following tips when deciding on a piece of wall art.
Look around and observe the colors, styles and mood of the room. How does it make you feel? It should make you comfortable as it is after all, your home. Besides the style configuring to your individual taste, what feelings would the room extract from a visitor? Would the room bring about feelings of calmness or excitement? Keep these questions in mind when deciding on wall art that would fit nicely with the existing color scheme and overall design style.
Guide Your Decision with Color
When deciding on wall art for home decor, use your favorite colors as a guide. Which colors are prominent in the room? For example, are there several objects in the room with shades of green? If so, it may be wise to choose art that has trees or florals as the subject matter. If blue is the common color, an ocean scene may tie it all together. You may have a room made up of neutral colors such as shades of grays or tans. If so, a bold statement could be made by choosing wall art with vibrant colors. Place a stunningly colorful piece of art in a neutral based room to turn the art as the main focal point. If you find the statement is a little too strong, you can always tame it down by adding accents of the same bold colors in other objects, such as throw pillows or curtains. Don't be afraid to take the plunge for you can always add colors accents to the room to make everything come together and fit your vision.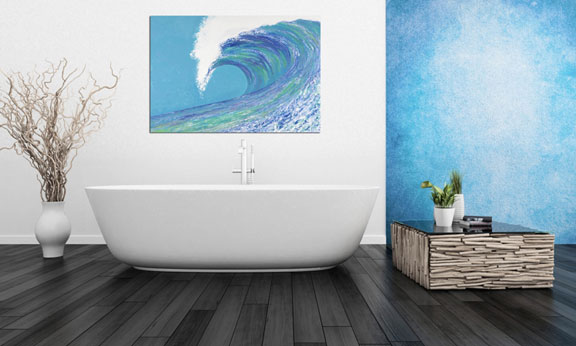 Decorate with Multiple Pieces
Decorating with canvas print wall art can bring your home's interior to the next level of comfort and elegance. If you have enough wall space available to hang art, take advantage of this opportunity because hanging multiple pieces of art can make a greater impression than one stand alone print. Hang several prints with the same style or by the same artist. This creates a cohesiveness to each piece in your home. It can also add more meaning to each print because an artist usually tells his or her story through art. Being part of a collection or home gallery can help better explain a single piece. Whether it be abstract art, impressionistic paintings or wild life photography ther