Large Canvas Prints & Large Photo Printing
Canvas Giclee Printing is one of the few online printing companies offering really large canvas prints and large photo printing. Our 60 inch wide Epson GS6000, Epson SureColor S70675 and Epson 9900 canvas printers are state-of-the-art equipment for extra large canvas print reproduction. Designed specifically for wide format canvas printing, the Epson printers allow us the ability to print your digital photos on canvas at any shape (aspect ratio) of your choice.
If you are looking for large canvas wall art, the maximum print size is 54 inches in width. Although our printers actually print at 60 inches wide, we allow the extra six inches for gallery wrapping and stretching. This leaves the finished print size at 54 inches wide up to 120 inches in length … that's a full 10 feet of extra large photo printing. No one handles these sizes better than Canvas Giclee Printing.
Once printed, our talented craftsmen use straight and sturdy poplar wood to build customized stretcher bar frames. The stretcher bars are assembled with 1.5 inch thick bars and support strut bars placed diagonally in all four corners and in the center of the frame to ensure stability of your large canvas wall art. Upon completion you have a gallery-wrapped, ready-to-hang, museum-quality large canvas print.
Canvas Giclee Printing serves professional photographers, artists, interior designers and galleries, but you don't have to be a pro to take advantage of our gallery-quality services. Over the years we have had the pleasure of decorating residential homes, offices, hotels, hospitals, convention centers and many other businesses with big canvas prints.
Do you have a need for large canvas art, or perhaps you have a blank wall space that needs a stunning panoramic canvas print? We are the best large canvas printer for your needs. Simply click our GET STARTED button and submit your digital file, we'll have your large wall art ready in no time. And if you don't have an image you like, you can choose one from our online art gallery and have it printed and shipped right away.
Extra Large Photo Printing with High Resolution Digital Files
In order to successfully produce large canvas photos and oversized canvas prints, you must start with a high quality digital image file. The higher the resolution, the more size options available to print. If you are unsure that your image file can be printed successfully to a particular size, do not fret! There are two ways to check your image's capability of upsizing prior to placing your order:
Use the following file evaluation link to upload files for prints which are larger than 40 x 60: File Evaluation. In the message box,  write a special request for our staff to examine the image. We will let you know if the image is capable of printing to your desired size. Our printing staff has considerable experience in photography and large canvas printing. We would never proceed with printing an image that is blurred or pixelated when blown up to larger sizes.
For sizes below 40 x 60, use our easy shopping cart order process with the "GET STARTED" button. Simply click the 'GET STARTED' button and upload an image file. Once uploaded, you will see your image on the screen. On Step #3 "Choose Your Size," you will see the sizes available based on the resolution of the image you uploaded. If you see many sizes on the drop down menu, that means the file uploaded has a high enough resolution for large photo printing. Please contact us for questions you may have … large photo prints are our specialty, and we're here to serve your needs when it comes to extra large canvas printing.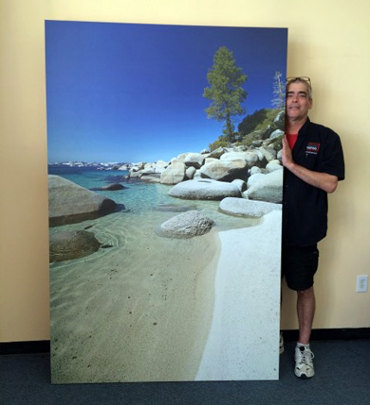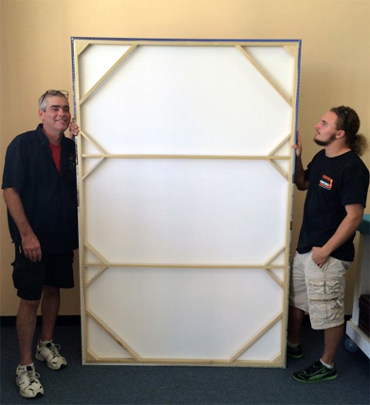 Large Wall Art with Brace Bars
Gallery Wrapping and Floater Frames for Large Canvas Prints
When ordering large or extra-large canvas wall art, you have the option of choosing a stretcher bar size of 1.5 inch or 0.75 inch thickness. The stretcher bar is a wooden built frame that is the skeleton, literally the backbone, of your print. The canvas is wrapped tightly around the edges, stapled, then taped as the finishing touch.
If you are planning to frame your gallery-wrapped canvas print, order a stretcher bar size of 1.5 inch thickness so that it will fit inside the floater frame. It is also recommended to choose 1.5 inch bars for print sizes 24 x 36 and larger to insure sturdiness and stability for your large canvas art.
We Can Create Large Canvas Wall Art from Your Original Artwork
Canvas Giclee Printing offers an art copy service for artists who do not have a digital image of their work. If you have an original painting you would like to reproduce on canvas, simply bring in your original artwork or ship it to us. We will make a high resolution digital capture used to create your large canvas print reproduction.
We shoot your original art in our studio with the iconic Hasselblad camera, which captures images with the utmost detail. Our skilled printers then color match the digital image to the original work of art. From the digital file created, we are able to print standard size canvas prints, oversized canvas prints and extra large canvas prints with super high quality results. Contact us today to have your original works reproduced as stunning canvas giclees!