Gallery Wrapped Canvas Prints
Gallery wrapped canvas prints offer a stylish, alternative to traditional framing with matts and glass. At Canvas Giclee Printing we gallery wrap our canvases to create high quality, affordable canvases with exceptional fit and finish. With custom canvas sizes available, we can offer large prints up to 54″ x 120″.
A canvas wrap is simply a canvas print that has been stretched over stretcher bars so that the sides will either be a continuation of the image or a solid color. Digital photos printed on canvas and then finished with a gallery wrap, have a vibrant 3-D feel which makes them jump off the wall! We offer three types of canvas medium: gloss, satin and metallic. With a beautiful canvas wrapped print on your wall, you will feel like you actually have a piece of museum quality art in your own home!
Canvas Wraps Arrive Ready to Hang
Our canvas wrapping service provides customized canvas printing for photographers and art printing for artists with the choice of .75″ or 1.5″ poplar wood stretcher bars. These custom designed stretcher bars prevent compression marks and creases during handling and shipping. Gallery wrapped canvases stretched on .75″ or 1.5″stretcher bars are also suitable for framing if desired. Sizes 24″x30″ and larger also have a brace bar support.
Each canvas wrap is then shipped in a heavy duty poly bag with bubble wrapped corner protectors. Your canvas wraps are shipped with wire and hardware attached so they are ready to hang on your wall right out of the box.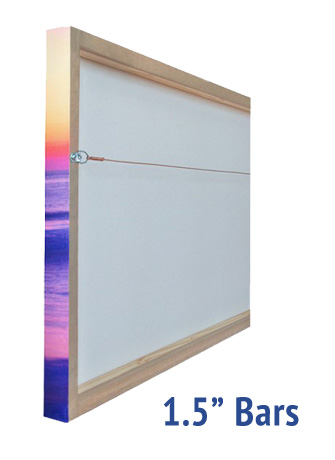 Ultimately, when you need canvas wraps we know there are a lot of canvas giclee printers out there to choose from. But only a handful can achieve the high standard and level of expertise that we offer. Years of experience in both the photography industry and printing industry give us the edge in producing high quality, high resolution photos and fine art prints on canvas. When you receive your custom gallery wrap, you can be sure that you are receiving the finest gallery wrapped prints in the marketplace today. Follow our easy online purchasing process, choose the look you want, and order your gallery wrapped canvas print today.
Custom Options for the Edges of Your Canvas Wraps
White, Black or Colored Edges – to create the illusion of a frame around the print, the edges are finished with a solid color
Mirrored Edges – to provide a more dimensional, continuous look to the print image, it is mirrored to the edges with nothing lost from the face of the print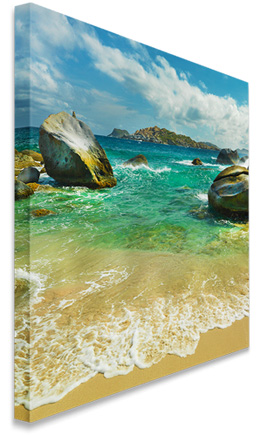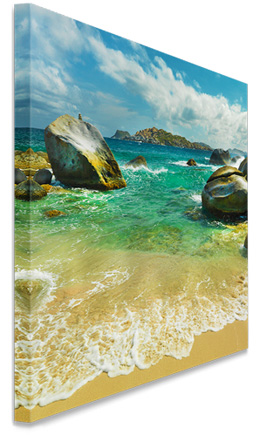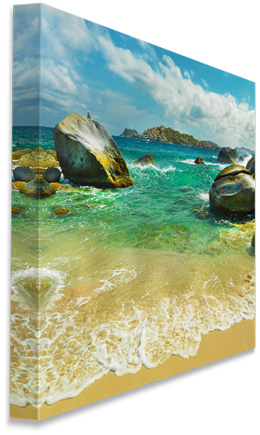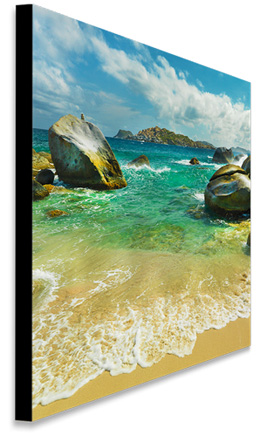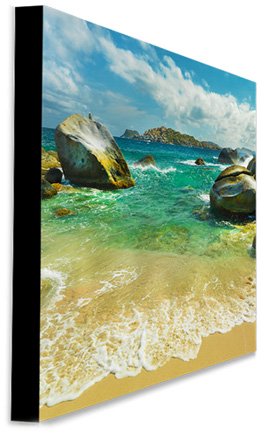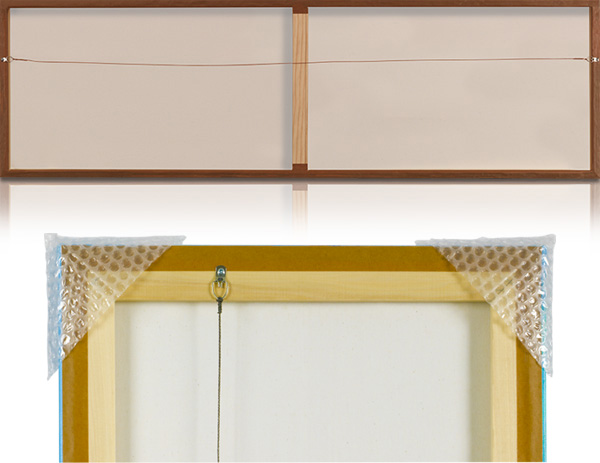 Our Competitive Pricing and Print Quality are Unsurpassed
Museum Quality Canvas Photo Prints
Gallery Wrapped Art Prints on Canvas
Custom Canvas Wrapped Prints